---
The collective poem in Lublin
Lublin: Wspólnie pisany wiersz
We focus in on one word that has stayed with us from any of the testimonies that we have heard and write it on a card button ...
There is a blue cloth on the floor and some coloured ribbons – one colour for each story from Iby, Fatima, Jasminka, Alon, Nahida and Assef.
Word buttons are placed on the ribbons.We work round one another to place them appropriately. At one point, it's like a game of Twister. One of the words someone has written is "twisted".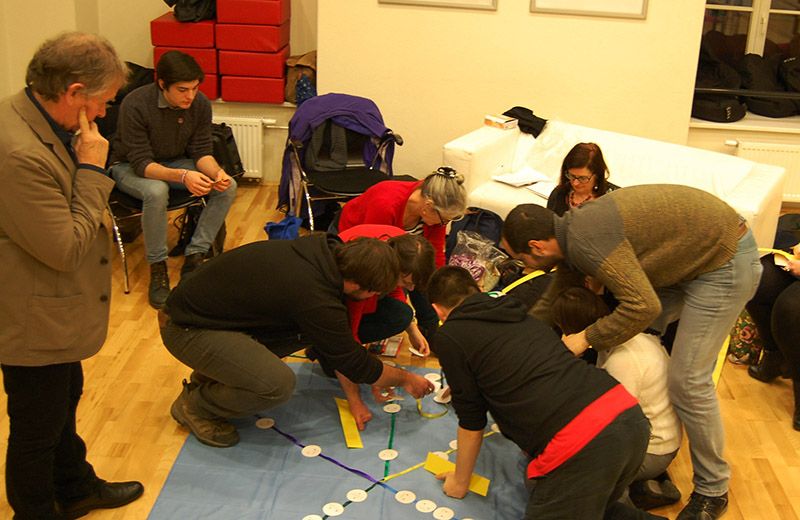 We look at the words in front of us. We each select one and write a phrase, using that word.
IMAGESThe phrases are added to the cloth and together we move them around until they resonate. Sometimes, we have to change the tense of a word. Sometimes, words are removed.
We concentrate, we listen to one another, we take care to include contributions from everyone.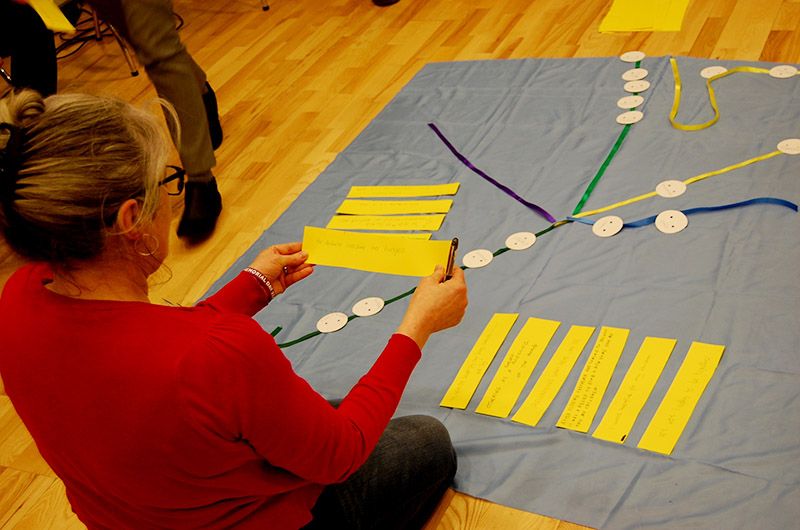 Collaborative poem after hearing stories from people who had to leave their countries
We were twisted with anxiety until we left
The coffee that once brought joy in Bosnia now brings sadness
"Othering" is a curse amongst neighbours
Iby's defiance overcame her hunger
After fleeing Chechnya and coming to Poland
I was again hopeful for my children
Relearning what a home can be.
We are lucky to be together
Separation bleeds like a wound
It's a relief to be reunited.
Feeling safe depends on neighbours
Every "Bob" trusts people with open hearts
It's such a patchwork of knowledge and compassion
Drink coffee again with joy.