Event 2: Reggio Emilia, Italy
---
Circus and cheese
Circo e formaggio
Our partners take us to the town of Novarella, close to Reggio Emilia, to the Gurdwara "Singh Sabha". It is one of the largest Sikh temples in Europe, built in 2000. Knowing we have a Sikh community in Huddersfield, in the UK, they thought we might like to visit and meet members of the community. . . .
We meet Narinder who was a lecturer in Punjab but travelled to Italy because of terrorism in his homeland related to the siege of the Golden Temple in the 1984. We sit on the carpet together and he tells us the reason for leaving was 90% political and 10% economic.
"Why Italy?" we ask.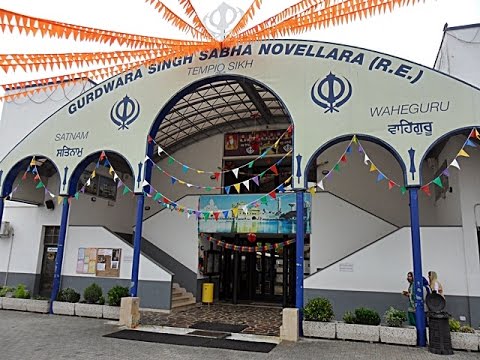 Rachhpal speaks to Mandeep in Punjabi who translates for us. I hear what I think is the word "circus" and wait with bated breath for Mandeep to translate.
In Italian law in the 1980s, circuses could hire artists from abroad so this provided a possibility for Sikhs to leave India and find work, plus a place to stay. Reggio Emilia had a circus that stayed in the area to prepare for summer tours.
Indians were hired as elephant or tiger tamers as well as stuntsmen and dancers. Although they often did have those skills, the reality was that many of them ended up as general labourers, working long hours under poor conditions. Initially, there was abuse and racism but the community worked hard to help local people understand they were not a threat.
Employment quickly turned from the circus to dairy farming and helped to save the production of parmesan cheese and mozzarella made in the region. Young Italians were turning away from agriculture and cheese production. "There's no need to speak another language when you milk cows. The fields feel like home and the weather is warm. Punjab, means 'the land of five rivers', and is an agricultural land so this was good."
The Gurdwara is very welcoming and people of all faiths and none come to visit in coach loads. Sikh children go to mixed schools because there are no faith schools in Italy unless children go to private schools. The women feel this is a good thing as "they all grow up together as equals."
Local Sikhs see themselves as part of a wider community. After the earthquake in the region in 2012, they distributed food to those who were made homeless by the disaster. "We are all Italians. We are all sailing in the same boat."
We are impressed by this generosity of spirit and experience more if it as they take us to the food hall for refreshments. We ask if people ever want to go back to India.
This is the reply: "This is our life now, this is our home. We have been back to India but it feels strange like being torn between two worlds."
Joginder, the President, thanks Mandeep for bringing us all to the temple, presuming she has organised the visit and she is the obvious leader. This is very much in keeping with the aims of our project that everyone should be leaders as well as learners.
"We are all Italians. We are all sailing in the same boat"