Event 2: Reggio Emilia, Italy
---
Arte Migrante
We are introduced to the wonderful organisation that is Arte Migrante and invite them to take part in our buttons activity. Arte Migrante sessions are open to all, creating inclusion through the arts: refugees, migrants, students, the homeless, young and old all participate . . .
The UK team arrive at the centre with friends from Istoreco and ask: "What time will the session start? When would you like us to begin our activity? Do you want us to give an introduction?"
Disconcertingly, we receive no answers to these questions from Sarah, the coordinator, except "Wait and see."
Gradually, refugees and others arrive. Some bring instruments with them. People greet one another with warmth and in many languages. They chat, they hum and sway. Painted cloths and blankets are set out on the floor. Without direction from anyone, people come together in a circle, sit down and the noise of conversation dies away.
There is a comfortable silence. Eventually someone begins to sing. Someone else recites something, plays an instrument. This reminds me of a Quaker meeting when people gathered together use silence and stillness to find points of connection and feel moved to speak or stay silent, by reading the depth of connection in the room.
Parveen shares a poem she has written. Someone helps to translate. This is quickly followed by the singing of Redemption Song by Vanessa.
May You Birth The Revolution
Many before you incubated
the mere whispers of freedom,
provided blood to transport belief to warm hearts,
forged a movement
from delicate limbs.
Not in a gilded womb pulsating with nutrients.
For blooming was for a select elite
accustomed to opulence. They who claimed
the land,
the sea
belonged to them.
When this movement learnt to speak
it said,
I do not belong to you.
Quietly at first, my land does not belong to you.
Then loud, my land does not belong to you.
At last this voice shook structures.
Sands shift and settle.
Today the elite still believe the land belongs to them.
Reimagining borders,
plundering resources for profit,
figures on rich lists beyond belief
while families, refugees, women,
can afford little relief.
Austerity stamped as the only belief
- I do not belong to you.
Ruthless system, in which we
are expected to lose
- I do not belong to you.
Decision makers concerned with ego and cash
- I do not belong to you.
I will incubate ideas of alternatives,
forge a life of resistance
I will repeat
I do not belong to you
I do not belong to you
Then I will sleep at the feet of my ancestors
with the dream of a revolution
being born.
We know when it is right to begin the button activity by laying our own coloured cloths on the floor and distributing buttons.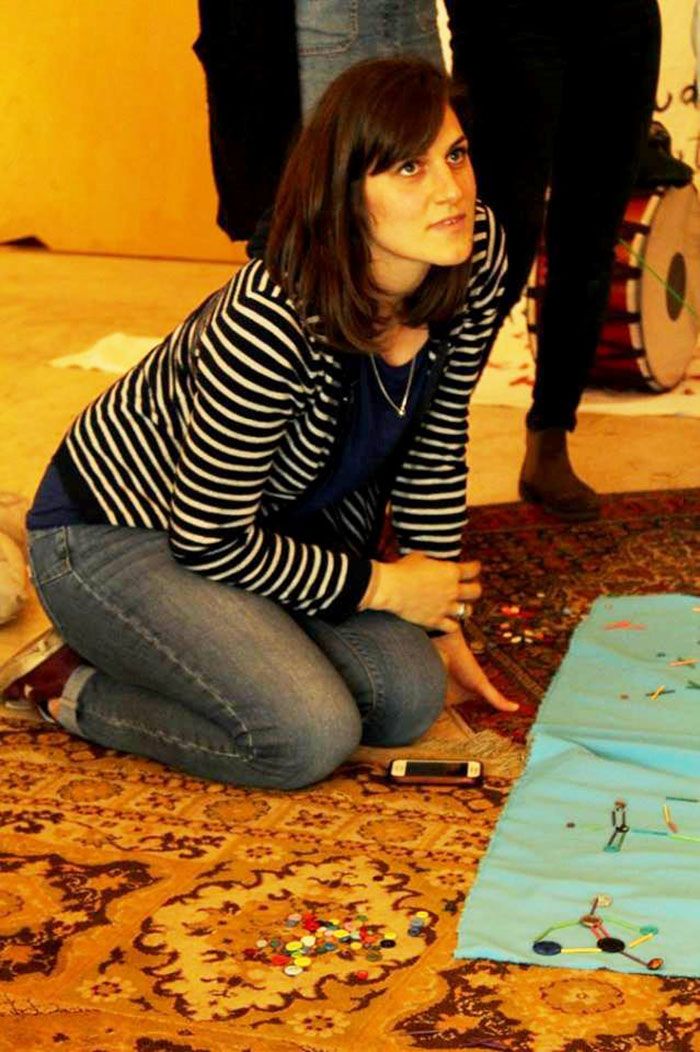 We only just have enough buttons as there are about 50 people in the room and more arriving all the time.
This group have no problem understanding the concept of creating networks of people using buttons.
The patterns they make are very beautiful and intricate.
They are used to expressing ideas and emotion creatively and very often without words.
They not only work on their own pieces but help one another.
They don't wait for instructions, they feel their way through the process.
Vanessa from Ghana selects:

a bell like button to represent the teacher who called everyone together
2 shiny big buttons - her parents
2 little hearts – her brothers

The one in the centre is herself. It has Chinese characters on it which she doesn't understand. "Like me, I don't understand myself. I'm a little bit crazy."
Stefan from Cameroon has created a house using the matchsticks.
On the roof is is a big dark button – "my father who brought me up with care and attention"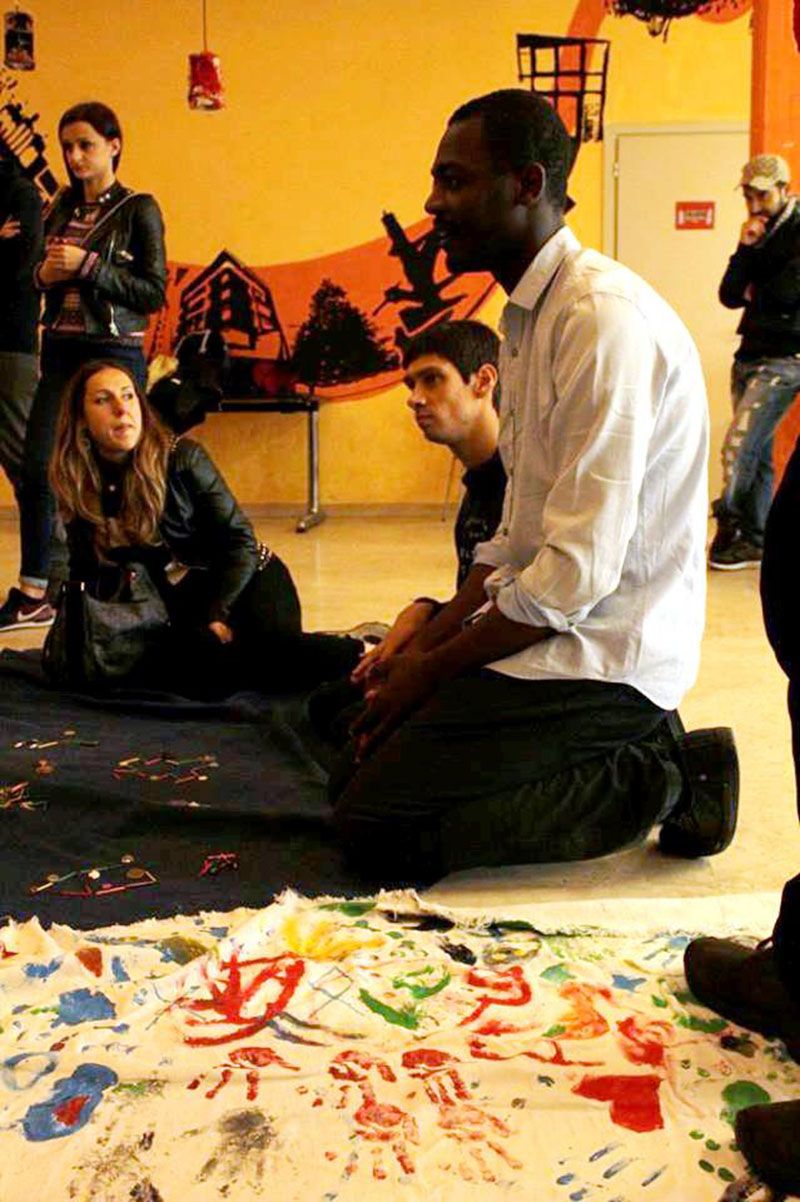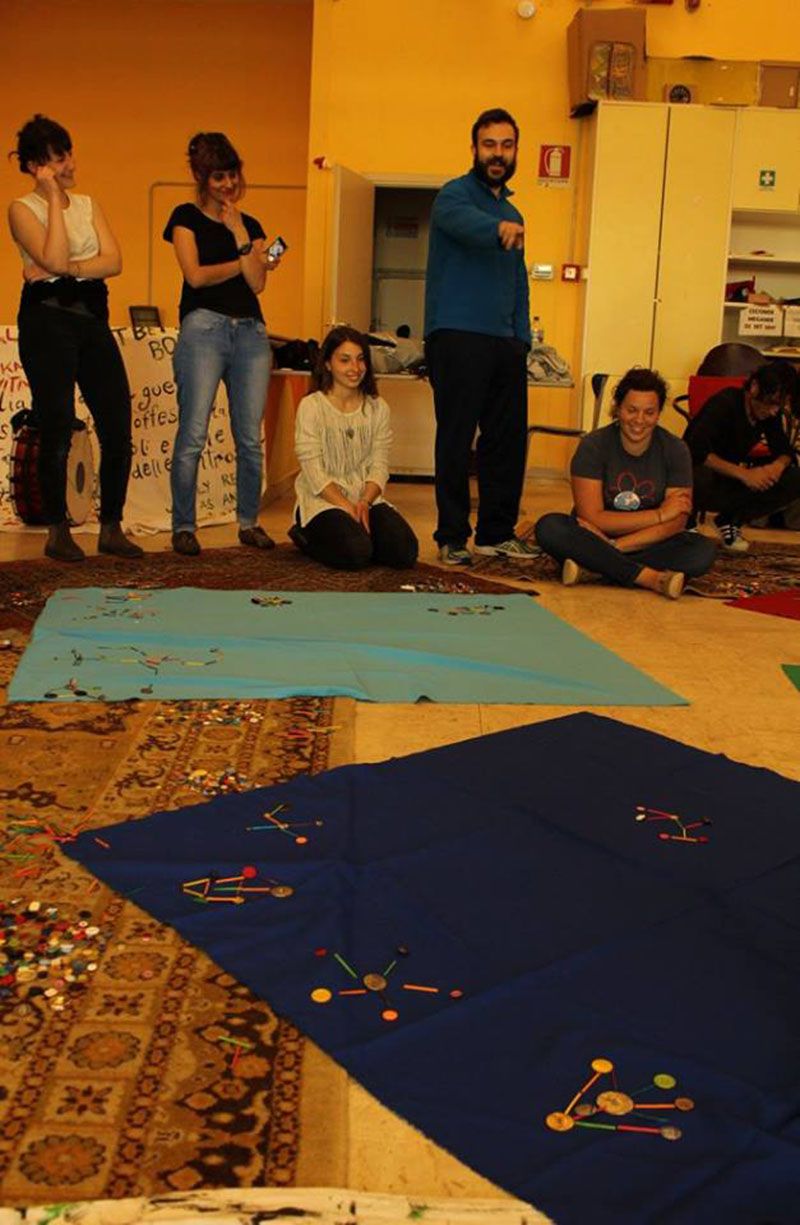 Members of the group laugh with Chris who thought the Italian for buttons was "pulsanti" – such a lovely word that for us has associations with a human pulse and thus a spirit of hope.
It is explained that this means push buttons to start machinery or appliances. Buttons for clothes are bottoni.
Chris responds "They'll always be pulsanti to me."
The discarding of buttons in small blue "bins" causes the level of noise in the room to rise. Losing family members, friends and other key people in their lives is familiar to many people in the room.
They understand the gaps in their patterns. Some of them begin to make new patterns, reflections of their second lives in Reggio Emilia.
There are people in this room from Gambia, Cameroon, Bangladesh, Afghanistan, Senegal, Mali, Egypt, Morocco, Ghana, Syria, Ivory Coast and Italy.
As we pack up the buttons, the matchsticks and the cloths, the session continues with more shared music, poetry and food. Some of the group express an interest in joining us for the rest of the programme. It feels like a privilege to have participated in this session where everyone is a facilitator and a participant.